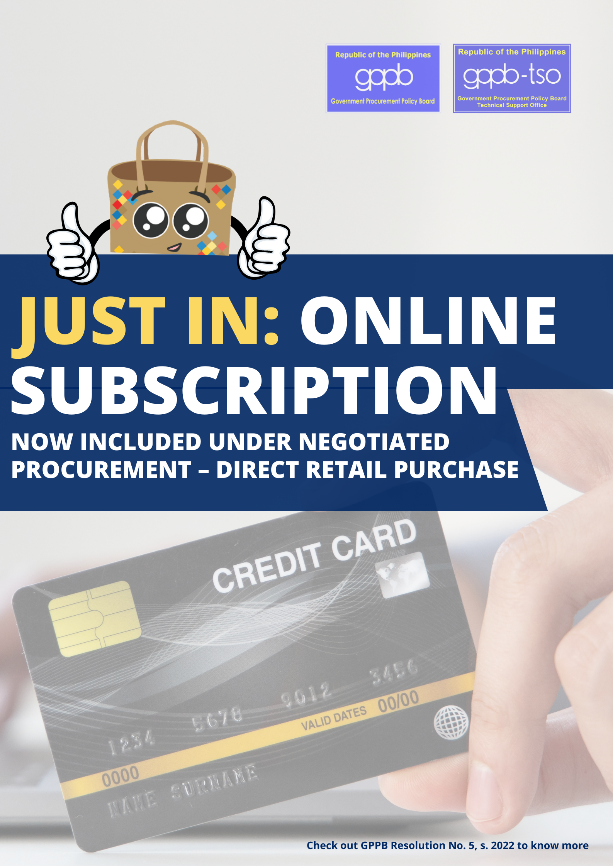 The Government Procurement Policy Board approves the inclusion of online subscription under Negotiated Procurement – Direct Retail Purchase under Section 53.14 of the Revised Implementing Rules and Regulations of the Republic Act No. 9184.
Procuring Entities (PEs) may now directly purchase subscriptions for (i) electronic publications, references, and journals; (ii) computer software and applications such as video conferencing applications, computer-aided design and drafting applications, office productivity tools, and system protection software; (iii) web-based services such as news and social media monitoring tools; and (iv) off-the-shelf information systems when no local provider is available or cannot comply with its requirements.
For the direct purchase of online subscriptions, PEs can already use the credit card as a mode of payment supported by a certification from the Head of the Procuring Entity (HoPE) of his/her duly authorized representative that it is the more expeditious and inexpensive mode of payment.
PEs can directly purchase online subscriptions with an Approved Budget for the Contract (ABC) of up to One Million Pesos (PhP1,000,000). However, if the needed online subscription would require an ABC beyond One Million Pesos (PhP1,000,000), PEs may increase the ABC not to exceed Five Million Pesos (PhP5,000,000) and subject to the approval of the HoPE.Check the GPPB Resolution No. 5, s. 2022 to know more!
#WeMakeThingsHappen
#GPPB_TSO