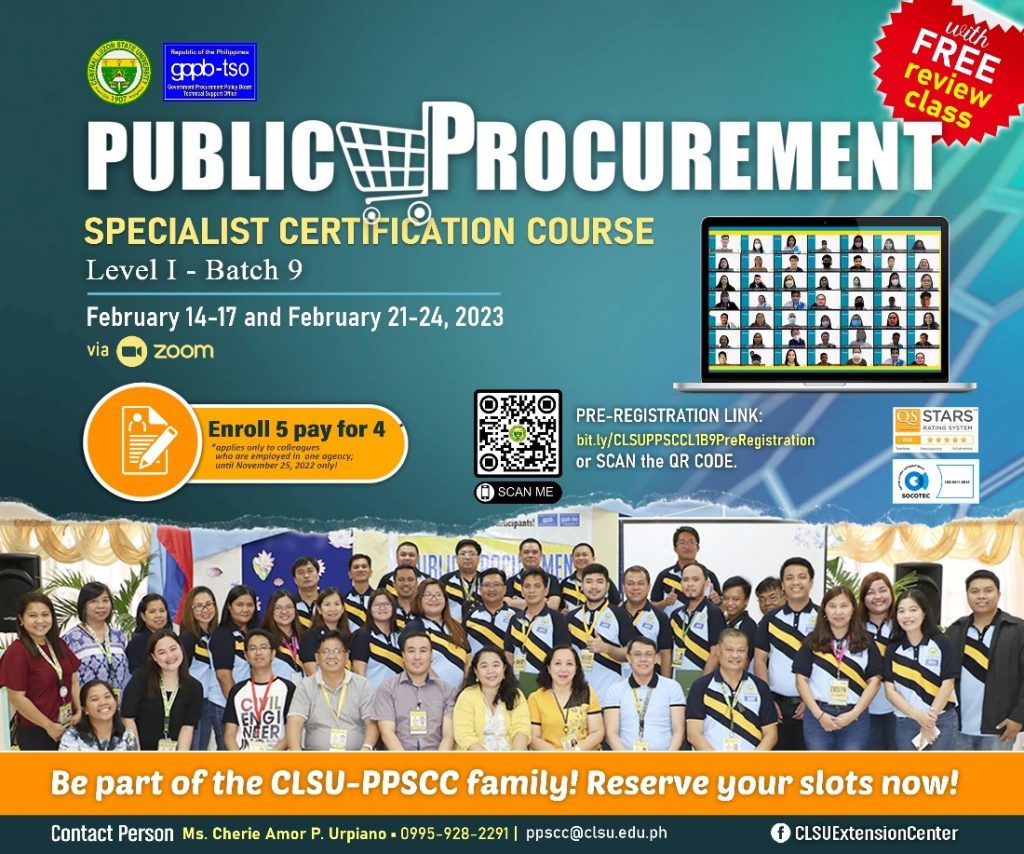 Calling all procurement practitioners, specialists, or any personnel involved in procurement activities, whether from public or private institutions!
We have good news for you that will help you enhance your knowledge and skills in procurement and earn you a certification of being a public procurement specialist! Enroll in CLSU-GPPB-TSO's Public Procurement Specialist Certification Course Level 1 Batch 9!
The course will be held online via Zoom from February 14-17, and February 21-24, 2023.
Learn the following topics from our pool of accredited trainers from the Government Procurement Policy Board through its Technical Support Office:
Principles and Practices of Public Procurement
Legal and Administrative Environment Philippine Public Procurement
Procurement Organization Framework
The Philippine Government Electronic Procurement System (PhilGEPS)
Procurement Planning
Procurement of Goods and Services
Contract Management and Administration of Goods
Ethics of Procurement
Pre-register now to reserve your slot and grab our "ENROLL 5, PAY FOR 4" promo.
See poster for more details.
Be part of our growing family and earn your certification from us!
Freebies like "Public Procurement Specialist Certification Course Level 1" polo shirt await those who will enroll and complete the course!
#PublicProcurementSpecialistCertificationCourse
#CLSUwherethedifferenceiscreated
#GPPBTSOxCLSU Central Luzon State University