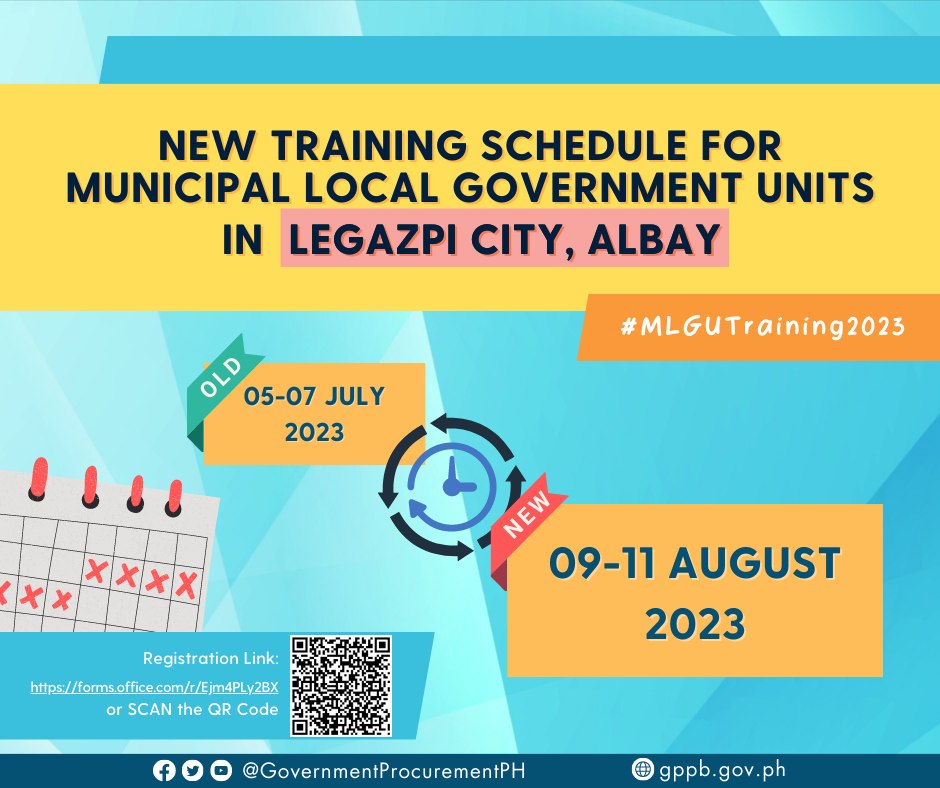 In view of the reported restiveness of the Mayon Volcano in Albay, please be advised that the Training for Municipal Local Government Unit on Republic Act No. 9184 and its 2016 revised Implementing Rules and Regulation which will be held in Legazpi City, Albay scheduled on 05 to 07 July 2023 𝘀𝗵𝗮𝗹𝗹 𝗯𝗲 𝗺𝗼𝘃𝗲𝗱 𝘁𝗼 𝗮 𝗻𝗲𝘄 𝘀𝗰𝗵𝗲𝗱𝘂𝗹𝗲 𝗼𝗻 𝟬𝟵 𝘁𝗼 𝟭𝟭 𝗔𝘂𝗴𝘂𝘀𝘁 𝟮𝟬𝟮𝟯.
The registration is still open to all interested participants from Region IV-A, IV-B, and V. You may register at https://forms.office.com/r/Ejm4PLy2BX.
Please be reminded that only successfully shortlisted participants will be notified of the next steps, including the payment details for the training.
Thank you and we apologize for any inconvenience this may have caused.
#MLGUTraining2023
#MuniciQualityProcurement
#WeMakeThingsHappen
#GPPBeEquipped
#GPPBeInformed